Learning, Invention and Creativity: Rethinking Local and Global Education
Online International Conference organised by Apor Vilmos Catholic College and the University of Winchester
On 11 March 2021 Apor Vilmos Catholic College together with the University of Winchester organised an online international conference entitled Learning, Invention and Creativity: Rethinking Local and Global Education on Teams. The objective of the conference was to provide a platform for European educational institutions to discuss topical issues, to share good practice and innovative methodological approach and to strengthen international relationships. A good number of the lectures in the field of local and global education focused on the changes brought about by the Covid-19 pandemic – among others, the expansion of hybrid and online education, the difficulties in students' practical training and the rise of virtual forms among international projects.
Lecturers and students of teacher training schools, heads of foundation educational institutions gave compelling presentations from different European countries. Hungarian (from Hungary and Transcarpathia), British, Belgian, Danish delegates shared their research results and experiences relevant to the topic encouraging the international audience to collective reflection. Based on the feedbacks, the conference has proved successful offering a varied and meaningful programme.
Storytelling Project in Winchester – Students' Report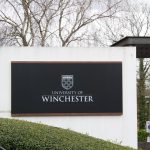 Every year since 2015 a project week is organised in Winchester as a part of the Winchester Tale Project based on two optional courses (Storytelling Course, Art and Craft Drama Course).
This year with the support of two teachers – Ágnes Bethlenfalvyné dr. Sreitmann in the preparation phase and Andrea Székely both before and during the project week – a group of five students – Eszter Boros, Krisztina Juhász, Eszter Kovács, Ágota Marczin and Katalin Ritz – travelled to the UK.
---
Dear Partners,
We should inform you that  due to the present situation caused by the spread of the Coronavirus, Apor Vilmos Catholic College has decided to cancel the International Week planned to be held in April (20th-24th). Actually,  we cancel it only for the spring term, and we would like to hold it in the autumn term of  the next academic year. We hope that until then everything goes back to normal again, and we can meet in Vác.
Kind regards,
Agnes Streitmann PhD
Head of the International Office
---
Apor Vilmos Catholic College
Rector's official letter
March 11, 2020
Information on the coronavirus disease (COVID-19) outbreak
In light of the fact, that on 4th March, 2020 the new CoVid-19 has verifiably reached Hungary as well, the following provisions and recommendations were issued:
Considering the govermental measures the Rector of Apor Vilmos Catholic College has decided to impose a ban on attendance at the college for 2 weeks from 12th March, 2020. Students' placement is also suspended during this period. From now on education can only be conducted in the form of distance education.
Those students and lecturers, who are currently abroad are ordered to refrain from attending the University premises and events for a period of 14 days after their return to Hungary. (Their absence shall be regarded as justified).
Each student, lecturer and colleague of ours shall advise and alert each other to comply with above regulation.
College lecturers and employees are instructed not to travel abroad as from today until April 15th 2020. In accordance with this regulation the lecturers were requested to cancel their conference participation abroad.
Mobility and travel for students engaged in international mobility programs shall be suspended until April 15th 2020.
International conferences planned until April 15th 2020 with foreign participants at our college shall be cancelled.
Lecturers shall coordinate with foreign guest professors invited by them regarding the cancellation of their visit to our University.
National conferences with up to thirty participants may be organized until April 15th 2020, whereas conferences exceeding this number of participants must be cancelled.
Please note, that non-contact sanitizer dispensers were placed to the entrances of every college building. The cleaning staff shall regularly disinfect door latches.
Each college member is obliged to comply with the fundamental hygienic rules and to handle the intensified social sensitivity related to the spreading of the new CoVid-19 in a reasonable manner.
The process set out by the Hungarian National Public Health Center must be followed in each case: https://www.nnk.gov.hu/index.php/lakossagi-tajekoztatok/koronavirus/534-coronavirus-disease-covid-19-faq
In case of experiencing the symptoms of fever and coughing, call your GP (local doctor) or the indicated national hotline of the Hungarian National Public Health Center + 36-80-277-455 or +36-80-277-456 free of charge.
The Hungarian Catholic Bishops' Conference has issued provisions related to personal hygiene in churches, including refraining from handshake during Holy Mass ceremony. Priests are instructed to distribute Holy Communion only into hands, and to empty Holy Water stoups in churches.
International students may contact the International Office via email at erasmus@avkf.hu to find out more about safety measures and updated news concerning the situation in Hungary.
Our mesures can be changed if the government require further restrictions.
Vác, 2020.03.11.
Józsefné Libor, PhD
Rector
---
Comenius Association Autumn Meeting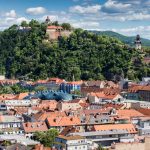 This academic year the autumn meeting of the Comenius Association (CA) was organized by the University College of Teacher Education Styria in Graz. AVCC was represented by Agnes Streitmann, vice rector for intercultural affairs, and Bill McBrayer, lecturer at the Department of Foreign Languages.
---
Guest Lecturer from Denmark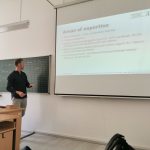 On 30 September Jacob Clausen, a lecturer from University College Copenhagen gave a talk on Social Education and the role of pedagogues in Denmark.