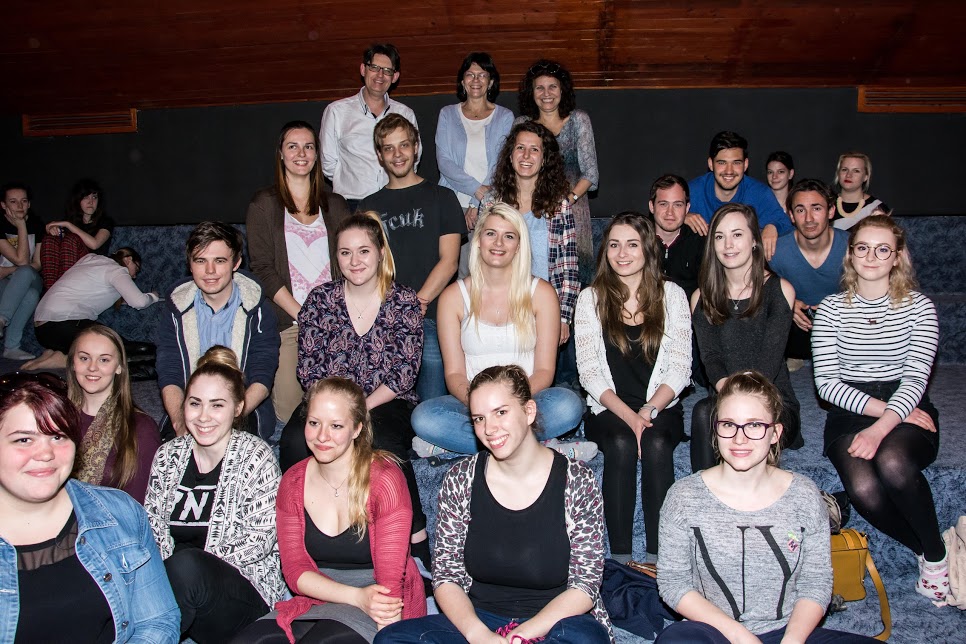 Please choose from the following menu items!

You can find the content under the menu.
I warmly welcome all our present and future students and all those who are interested in our institution.
With my appointment of August 1, 2017 I was given the mandate to head a college where beside the religious programs there are so-called secular programs. Our institution is open to the non-Catholic or non-religious students, too, but the representation and transmission of Catholic values is present throughout the training spectrum of every program we offer.
Apor Vilmos Catholic College is hosted in the impressive building of a one-time seminary in Vác, a town a half-an-hour ride north of Budapest. It has been the college's headquarters since 2004, offering the pleasant environment of a restored, listed building in one of the most beautiful squares in Vác, in the proximity of the Assumption Cathedral.
The college was established first in Zsámbék as an affiliated department of the Esztergom Teacher Training College in 1977, then, from 1981, as the independent Teacher Training College of Zsámbék. It was the only village college at that time in Hungary. From 1993 the college has been run by the Catholic Church, first under the name of Zsámbék Catholic Teacher Training College, then, in 2000, the College was named after the martyr bishop, blessed Vilmos Apor. The college continued to work in Zsámbék till 2003, when due to an unfortunate accident of fire the building burnt down and the training could not continue. In 2004 the college was taken over by the ordinary of the Vác Diocese. Since then, the training has been carried out in Vác, with many more study programs than in the beginning.
Young professionals with AVCC degree can easily find employment, almost all of them in accordance with their training. Students can choose the most appropriate form: full-time, correspondence, state-funded or fee-paying training.
Our BA programs cover almost the whole spectrum of teacher training, as we train professionals for Infant and Early Childhood Education, Pre-school Education [with German and Roma ethnic minority specializations] – also in English language, and Lower-primary Education [with German and Roma ethnic minority specializations]. The scientific and humane teachings of caring for adults in need are dealt with Social Pedagogy [specializations: Organizing free-time and preventive activities, Integration problems in Roma communities]. Religious studies programs include Church Cantor and Catechist-Pastoral Assistance. Lecturers of the programs are the dedicated, science degree holding priests of the Vác Diocese.
We also offer a Pedagogy MA program with Family care pedagogy and Supportive education specializations.
Our future plans include launching further BA and MA programs, tailored to the needs of modern society. We plan to offer a wider choice of training to all those who would like to study in a family-like community. For it is the greatest attractive force of our college that besides transferring the necessary skills and scientific knowledge, teachers take particular care of the spiritual development of the students. Since we are a small institution we know each other and in a small community obstacles can be overcome more easily.
International relations provide for a variety of study trips and professional practices abroad. Through our Erasmus relationships students can get to a number of countries in Europe. The training is completed with optional opportunities, different workshops and clubs. We lay particular stress on talent fostering in the fields of sciences, arts and sports. We also offer Romology and ethnic studies to our students. The abundant library stock, the dedicated and conscientious work of our highly qualified teachers support the professional preparation and the continuous development of our students – both theoretically and practically. Students receive a high-level, practice-oriented training, which implements the newest scientific achievements which conveys Catholic values. Thus students develop not only in knowledge, but in humanity as well.
Events organized by the Students' Council bring colour into everyday life, offering opportunity for relaxation. For students who live far away we offer two dormitories with 2-3-bedded rooms, permanent Internet-availability and all the facilities necessary for everyday life. We also offer these rooms as moderately priced accommodation to individuals or groups of tourists visiting Vác in the summer period.
Postgraduate teacher training courses are available in distance education form and specialized postgraduate trainings as correspondence courses. We consider it most important to provide opportunity for ongoing development for teachers already working in the field of education.
Besides tuition, lecturers take part in different trainings themselves. Conferences, organized at AVCC, often at an international level, our own periodicals (Katolikus Pedagógia [Catholic Pedagogy], Szociálpedagógia [Social Pedagogy], Magyartanítás [Teaching Hungarian] offer excellent opportunity for sharing research results. Almost all of our lecturers hold a PhD degree or have enrolled to a doctoral course. Our research workshops – involving our students – examine the new opportunities of different branches of science and their practical implementations.
As a leader I am convinced that we can make progress by building on and making use of earlier achievements. We must learn from mistakes in order to develop a College as a community of people who help each other and work for a common goal.
We look forward to welcoming all who are interested,
Józsefné Libor, PhD
Rector
Our website is under construction.It will be available soon.
Our website is under construction.It will be available soon.
College Departments
Department
Head of Department
Department of Church Music and Arts
Dr. Kriszta Köncse
professor
Department of Mathematics, Natural Sciences and Informatics
Dr. Zsuzsa Libor
rector, professor
Department of Education, Psychology and Sport
Dr. Krisztina Molnár
professor
Department of Religious Studies, Social Sciences and Romology
Dr. Nikoletta Csürkéné Mándi
professor
Department of Language and Literature
Dr. Ágnes Streitmann
professor
College Units
| | |
| --- | --- |
| Unit | Head of Unit |
| Rector's Office | Ms Emese Erős |
| Office of International Relations | Ms Marianne Szentpétery |
| Office of Student Services | Richárd Gőz |
| Finance Department | Mr Imre Kucsera |
| Dormitory | Ms Krisztina Németh |
| Library | Ms Katalin Endrész |
Our website is under construction.It will be available soon.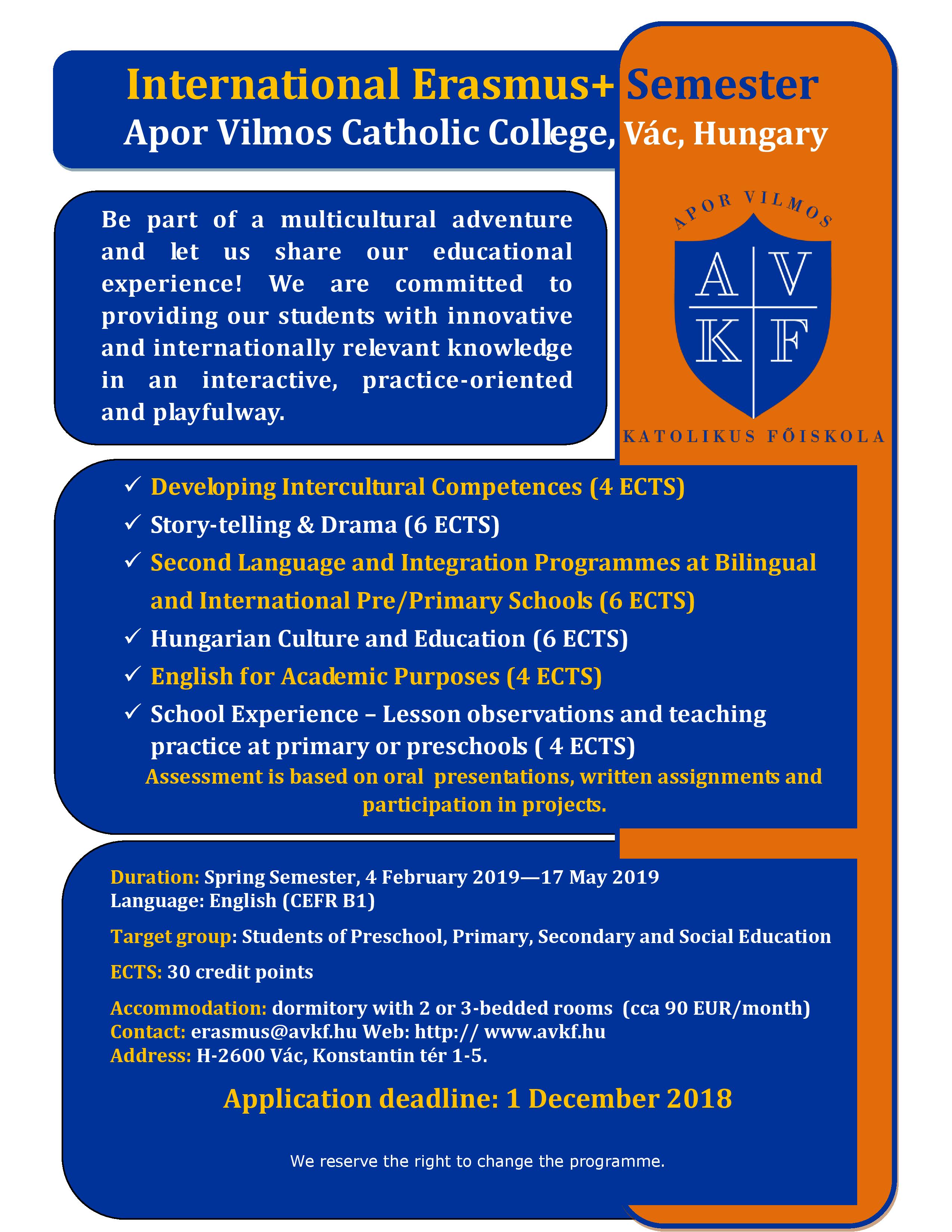 Course Descriptions
Developing Intercultural Competences
4 ECTS
This comprehensive course aims at facilitating effective international communication, which enables students to cooperate with students from other countries or of different cultures.
In the general multicultural environment Europe and the world is facing, intercultural dialogue is of cardinal importance. It is important to develop cross-cultural empathy and behavioural flexibility. And it is always interesting to learn about each other's customs, social behaviour, and conventional norms.
The course will focus on
participation in international projects
communication in an international setting
sharing international experience
comparison of educational systems
project activities comprising minority issues in Hungary from a pedagogical perspective
comparing special pedagogical programmes for pre/primary school children with learning disabilities and disorders/special needs/ disadvantaged background.
Storytelling and Drama
6 ECTS
During the course students will be taught to use different planning and analysis tools to discover the structure and the plot of stories, to be able to tell stories in an attractive and creative way. Visual prompts and accompanying actions make the story more memorable. Students will also be taught the three key skills to storymaking.
The following areas will be covered:
the use of story maps, story flowcharts, story mountains
the Kamishibai theatre storytelling technique
different visual reminders which help to tell a story
actions that accompany the story
a kinaesthetic reminder to make a story more memorable
imitation, innovation and invention
The stories will also be presented through the tools of drama. Humans' ability to play is one of those wonderful universal skills through which people can connect with each other, release stress, and understand themselves and the surrounding world better. You need no language to play, so it bridges the gap between different nationalities. At the same time, different people have their own unique social and cultural makeup which is worth the exploration. Drama is an excellent way to celebrate our differences, and to enhance sensitivity and empathy towards each other.
This course offers would-be teachers and social workers an opportunity to explore the possibilities of verbal and non-verbal communication through drama. During the course, we are going to try out different games that students can use in their diverse professional fields. These games can improve creativity, help intercultural dialogue, create more energy, enhance concentration, and cause a lot of fun – just to mention a few benefits.
The games are going to focus on the following areas:
warm-up and cool-down games
working with body and voice
getting to know each other
concentration games
trust games
developing a character
working with imagination
improvisation
Second Language and Integration Programmes at Bilingual and International Pre/Primary Schools
6 ECTS
During the course students will become familiar with the essential theoretical knowledge, pedagogical applications and practical language skills needed in teaching a second language to young learners in bilingual and international pre/primary schools. They will learn about the physiological and psychological factors enabling early bilingualism and multilingualism and about the language teaching approaches based on the distinction between language acquisition and language learning. Participants in this course become familiar with different educational programmes and fundamental organizational issues in bilingual and international pre/primary schools, and will be able to plan and comment on the early foreign language acquisition part of the educational programme.
Students will be acquainted with different ways of communication, interaction helping pre/primary school children of different cultural background integrate into the everyday life of the school and the community. They will learn about the educational partnership between teachers, day care workers and parents, which aims at promoting a child's balanced growth, development and learning in international educational institutions.
Hungarian Culture and Education
6 ECTS
The course aims at giving a comprehensive picture of Hungarian life, broadening the student's perspective and developing intercultural competences in a creative, colourful, experience-based way. Topics:
Hungary. Past and present
Youth and family policy
Education system. Some important pedagogical, developmental methods
Art through creative activities
Experience Hungary – Basics of Hungarian language. Traditions, customs
Experience Hungary – World heritage sites. Spas. Hungaricums. Cuisine
Hands-on experience by creative activities, arts and crafts, folk dances etc.
English for Academic Purposes
4 ECTS
The aim of the course is to introduce students to a variety of skills necessary for academic level communication from essay writing to presentation skills. By the end of the course they will be able to present their views and ideas with confidence both orally and in writing. The following topics will be covered:
Academic vocabulary
How to write an argumentative essay
How to give a presentation
Research skills
How to write an academic essay
School Experience
4 ECTS
Lesson observations and teaching practice at primary or preschools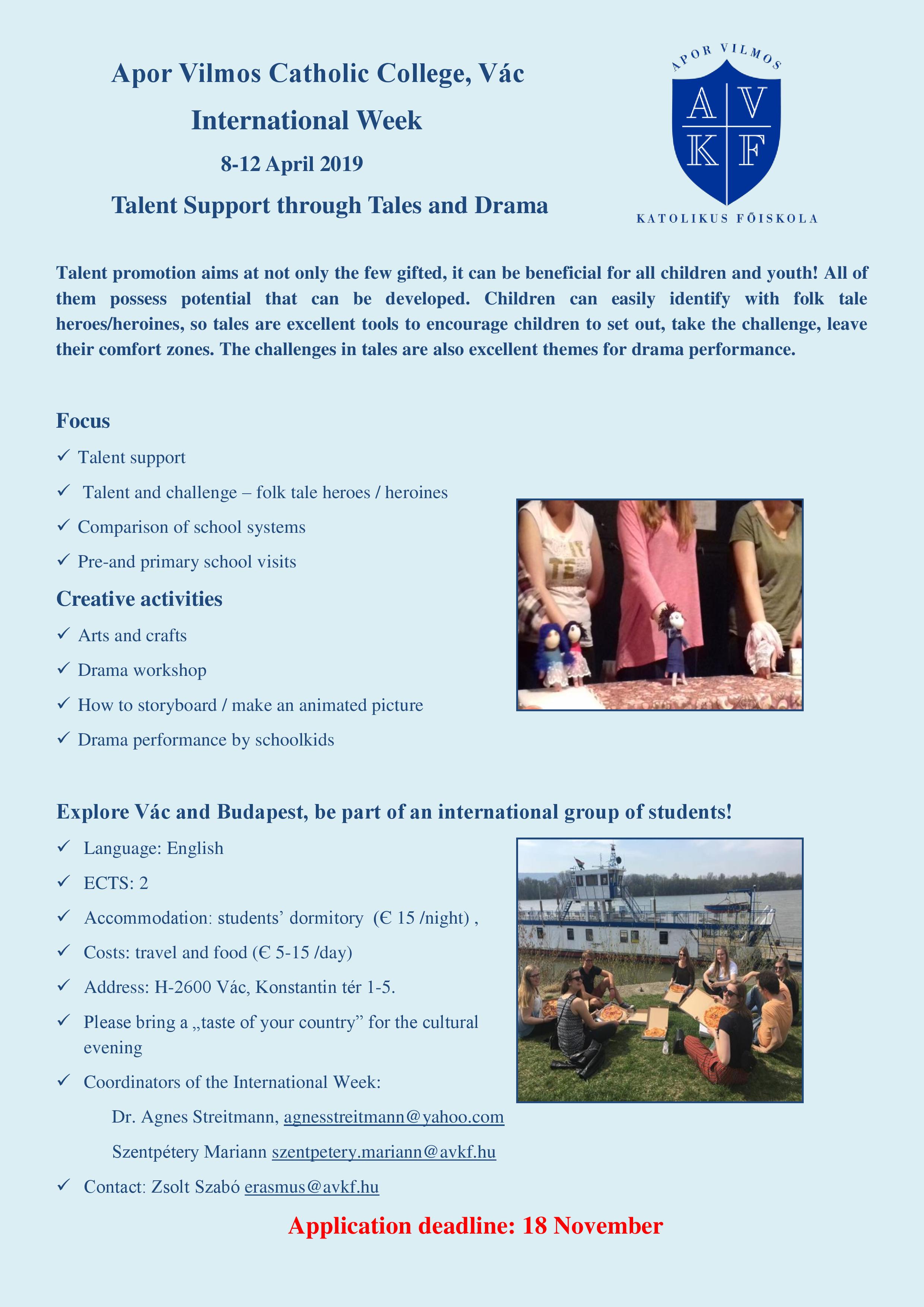 International Week 2018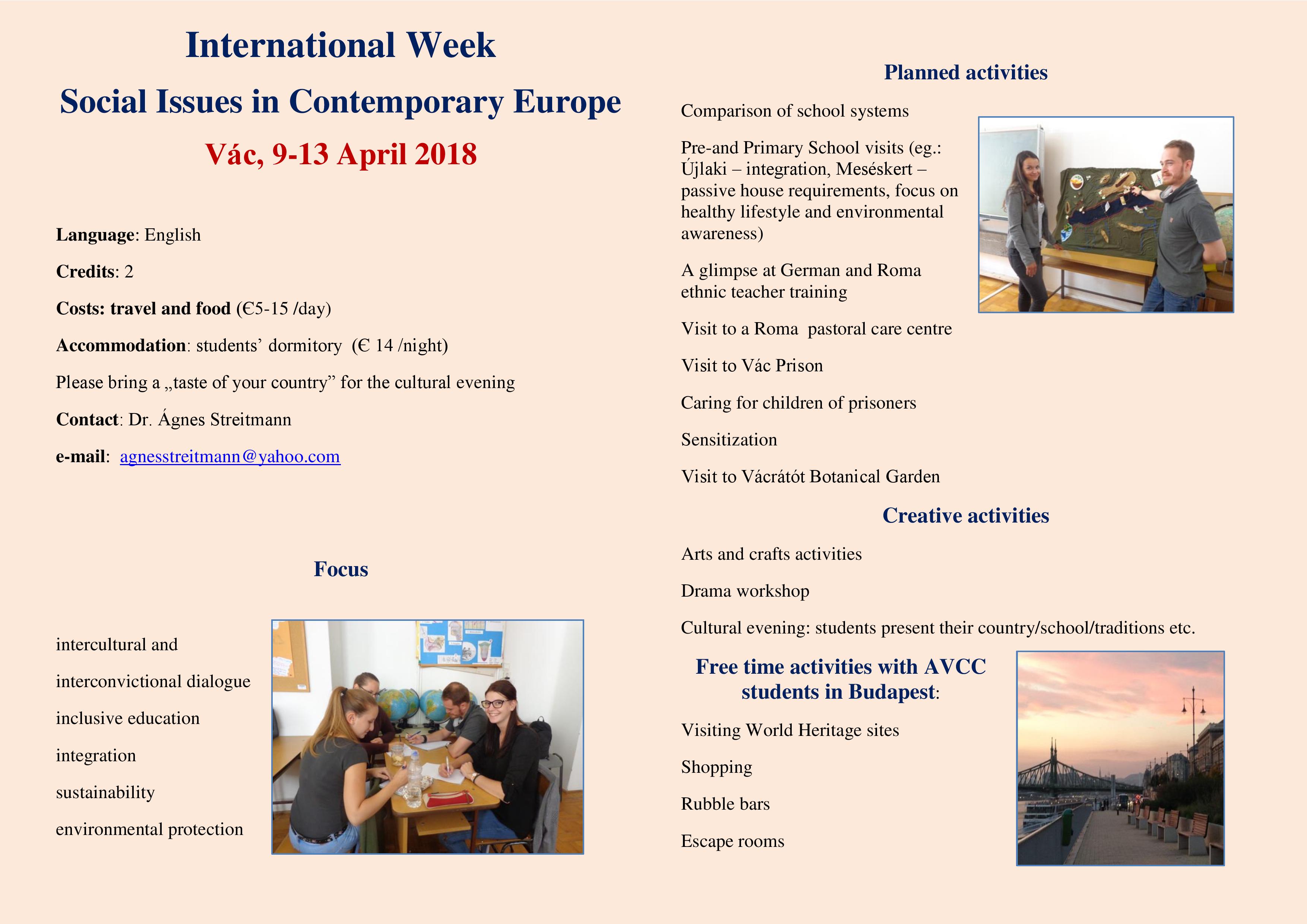 International Week 2016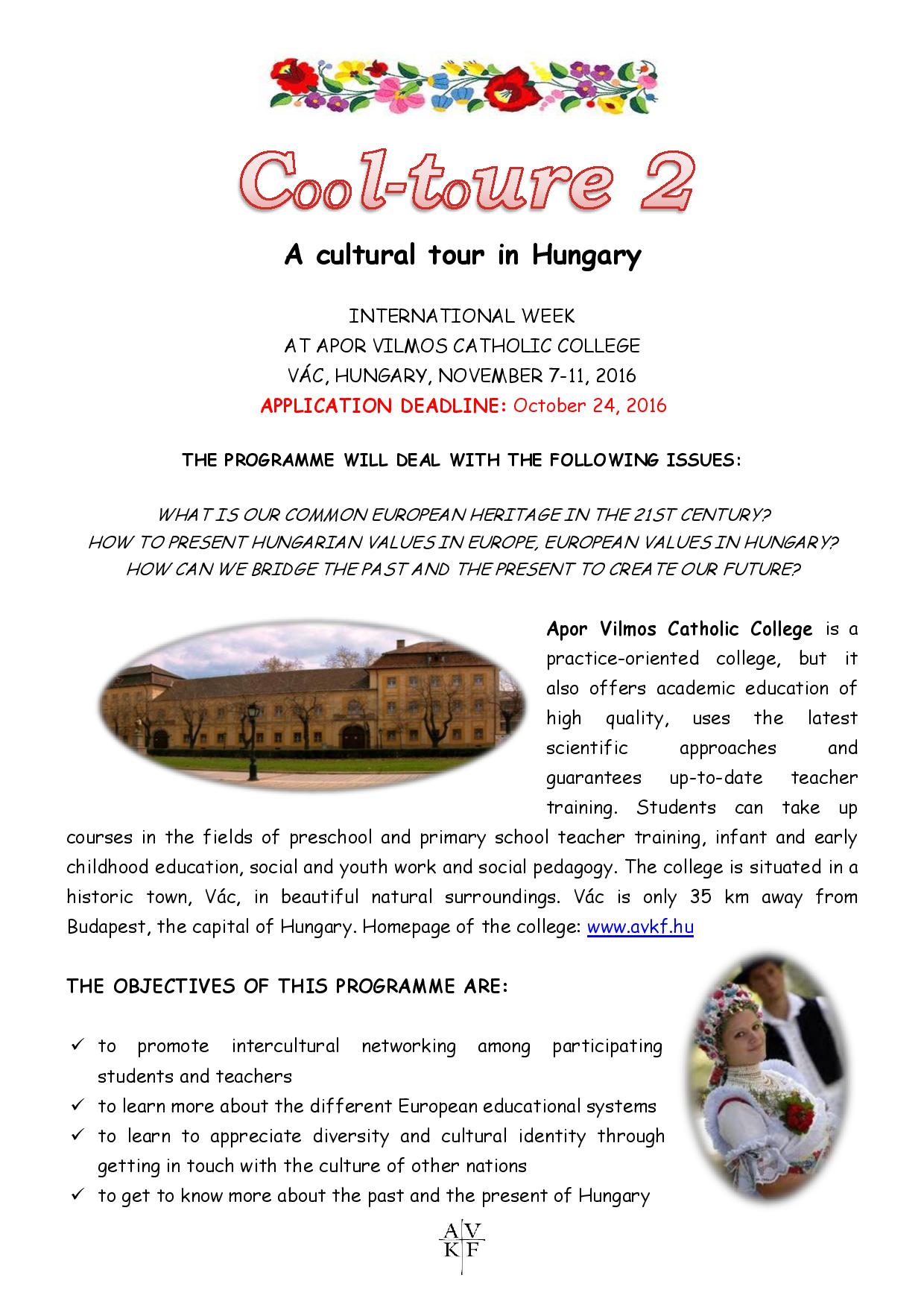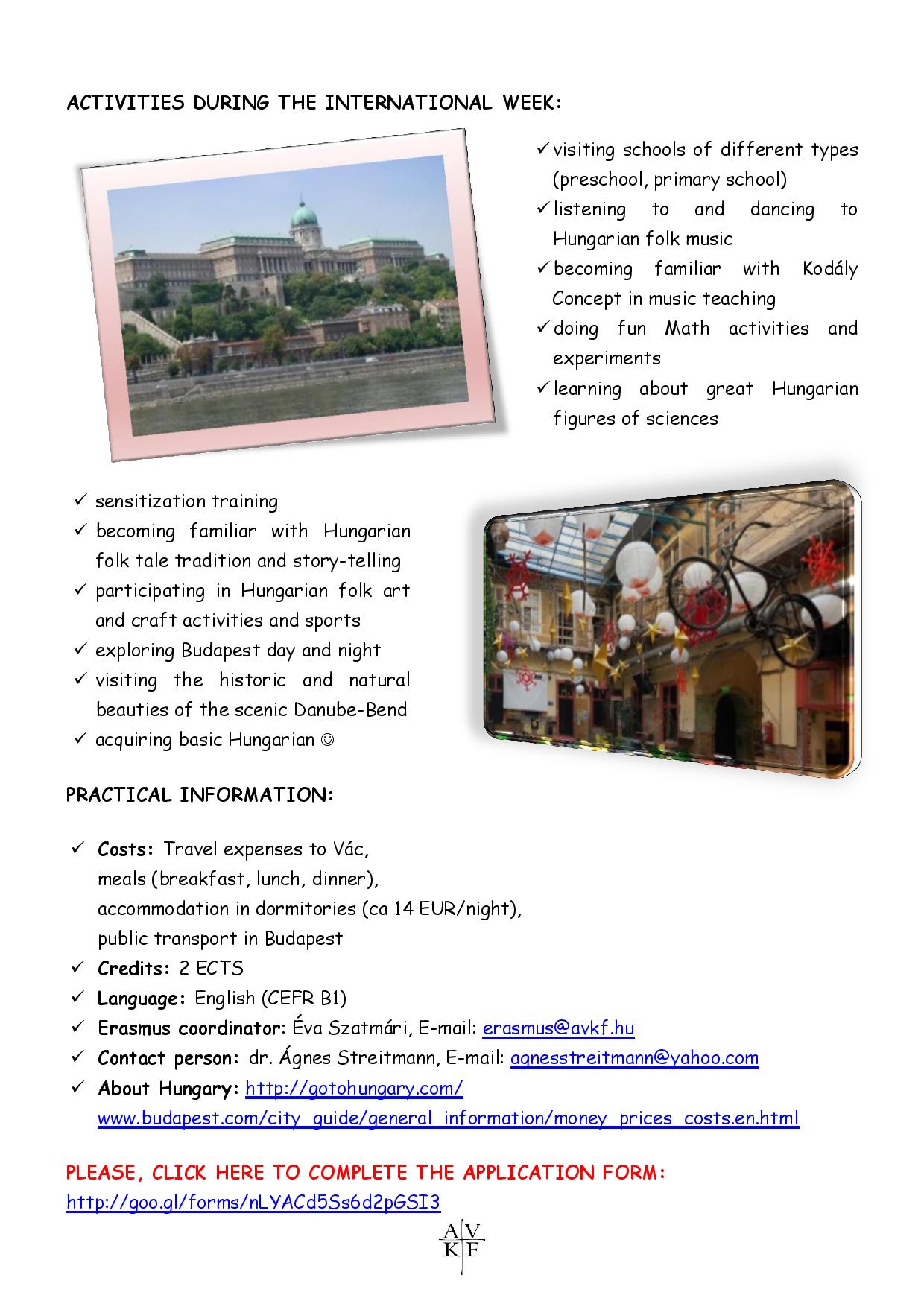 International Week 2015
Talent Support through English and Hungarian Folk Tale Tradition
Talent promotion aims at not only the few gifted, it can be beneficial for all children and youth. All of them possess potential that can be developed. The development of resources in young people is intertwined with supporting interaction, self-confidence, and self-monitoring skills, social and emotional competence, communication skills, persuasive power and, last but not least, with developing one of the so-called key competences – intercultural competence.
There are skills, competences and resources and there are several ways to develop these in order to promote talent successfully. One way is to bring together the students of two teacher training institutes from different countries. Students can work together to collaborate in research, to learn about each other's culture, to share their knowledge and finally to meet personally when visiting each other's institutions.
This is exactly what two teacher training institutes – The University of Winchester from England and Apor Vilmos Catholic College from Hungary – decided to do by launching a joint project based on English and Hungarian folktale traditions.
 BEGINNINGS 
The project began at a meeting of the Comenius Association in 2015. Two lecturers, Agnes Streitmann (Apor Vilmos Catholic College) and Jonathan Rooke (University of Winchester) with a shared enthusiasm for children's literature realised they both taught their students about traditional folk tales and fairy tales. There was clearly commonality in the approaches and analytical tools. It became apparent that some of the tales that the English and Hungarian students study belong to the same tale-type and cycle. This triggered an idea. Could students from Hungary and England study together folk and fairy tales, share their research findings and do pedagogical work together? Appropriate tales were selected, a project plan was outlined and an international research project was born.
OBJECTIVES OF THE PROJECT
The shared project between the two institutions emphasizes not only the intercultural aspects of folk tale tradition through investigating similarities and differences, but also targets identifying the national characteristics emerging in the tales, and enhancing knowledge about the British and Hungarian culture.
It offers the possibility of gaining international experience by promoting international cooperation through students sharing research and knowledge exchange. It develops an intercultural dialogue between the English and Hungarian students through investigating how the tales can be represented in different art forms in different countries and by enhancing the students' knowledge about folk tales, particularly the Hungarian and English ones, and relevant theory
The project aims at fostering talent in Hungarian and English students by encouraging them to use English and Hungarian folk tale traditions in a creative way, to use the literary treasure of the two countries in their ways of expressing their thoughts, ideas, emotions about the world, human relationships, social changes and the connection between past and present. For Hungarian students, the project also offers the possibility to develop their English language skills.
It intends to encourage schools from each country to actively participate, thus making it possible for students to compare pedagogical practices in a different European country. Students and schools will develop pedagogical teaching and learning activities for children to use so they can engage meaningfully with folk and fairy tales.
CONTENT OF THE PROJECT
The project aims at promoting and providing both academic and practical background for the English and Hungarian Folk Tales Research Project of University of Winchester and Apor Vilmos College. The students investigate English and Hungarian Folk and Fairy Tales favouring tales that are common to both England and Hungary. They have studied English and Hungarian Folk Tales for example which belong to the animal bridegroom fairy-tale cycle, different Jack and the Beanstalk variants, the Gingerbread Man and other tales belonging to The Fleeing Pancake tale type, and some tales of the Cinderella cycle. In the 2018-19 academic year they are supposed to work with different kinds of folk tale heroes and heroines.
The theoretical aspects of the project comprise reading and analyzing English and Hungarian folk tales focusing on language patterns, folk tale motifs and imagery; examining universal values and common truths while simultaneously addressing the specifics of the tales as historically and culturally bound. Students investigate different aspects of the tales within cultural narrative, moral, and psychoanalytical frameworks, and they get familiarized with critical methodologies used in the study of folk and fairy tales – Propp's structuralist, Bettelheim's psychological framework, and Zipes' socio-political approach – and apply these methodologies to the texts.
Besides doing research on the texts, students are encouraged to investigate the ways the tales are represented in diverse cultural forms through books, picture books, artwork, puppetry, drama, media adaptations.
Students share their research findings on a project website , which is populated with their research papers, film links, project activity plans, records of their pedagogical practice in classroom. For the informal communication students made a closed facebook page.
Practical and artistic aspects are also emphasised in both institutions. The theoretical, research part of the project is accompanied by art and craft activities aiming at preparing puppets, props, scenery, illustrations and so on to be used in performances in seminars and in school work with children.
In parallel with the English and Hungarian students' cooperation, there is also primary school work. Students research possible ways of working with the children based on the tales. They prepare lesson plans, dramatize and perform the tales with children. Records of their pedagogical practice in classrooms is recorded on the project website.
In the autumn term schools that have existing good partnerships with the universities host the students and assist them in their practical classroom work with children. Students work with children in their home country, experimenting with ideas for teaching children about the folk and fairy tales. They refine these and then prepare to share the classroom pedagogical techniques with their partner students during the project-week at the partner institution in the spring term. The most popular storytelling techniques and pedagogical applications used by the students so far are as follows: Kamishibai (paper theatre), story-mountain, story-map, story-string, tablet technology, dramatization of tales.
During the project weeks students also participate in exciting and inspiring thematic programmes. They join the interactive workshops held by lecturers and guest performers, watch dramatized versions of tales performed by primary school pupils and puppet performances at puppet theatres, visit story museums, and enjoy sightseeing in Budapest and Winchester.
Our website is under construction.It will be available soon.
Our website is under construction.It will be available soon.
Our website is under construction.It will be available soon.
Our website is under construction.It will be available soon.
Apor Vilmos Catholic College
International Office
Address:
Konstantin tér 1-5. H-2600 Vác, Hungary.
Postal address:
Pf.: 237, H-2601 Vác, Hungary
Tel.:
+36-27 / 511-148 / 206 ext
Fax:
+36-27 / 511-141
Dr. Agnes Streitmann PhD
Representative of the Comenius Association
agnesstreitmann@yahoo.com
streitmann.agnes@avkf.hu
Zsolt Szabó
International Coordinator
erasmus@avkf.hu
Erika Bodó
International Relations Assistant
erasmus@avkf.hu
The office is responsible for managing international programmes, at Apor Vilmos Catholic College, administering the establishment of new international partnerships and cooperating in maintaining the existing ones. It also oversees international grant applications and international projects: both exchange programmes and research projects. Coordinating the Erasmus+ programme at the institutional level is one of the main responsibilities.
Dr. Agnes Streitmann PhD
Representative of the Comenius Association
agnesstreitmann@yahoo.com
streitmann.agnes@avkf.hu
Zsolt Szabó
International Coordinator
erasmus@avkf.hu
Erika Bodó
International Relations Assistant
erasmus@avkf.hu
Travelling to Apor Vilmos Catholic College, Vác, Hungary
From Budapest Airport to Nyugati pályaudvar (Western Railway Station, in Budapest city centre)
You always have to buy your tickets (either for the bus or the train) in advance from a ticket machine or at a ticket office.
From the Airport you can take bus No 200E to Ferihegy Railway Station (5th stop), where you can change to a train which takes you to Nyugati pályaudvar (Western Railway Station), which is the last stop. The train goes quite frequently.
From Nyugati pályaudvar (Western Railway Station) you should take a train to Vác. There are shuttle trains (in Hungarian: zónázó) No Z70 every hour at 07 (e.g.: 8.07), the first stop of which is Vác Railway Station (journey takes 25 mins). Or there are passanger trains No S70, which stop at every station and take 42 mins, and their last stop is Vác. These trains start from Nyugati every hour at 15 or 45 (e.g.: 8.15 or 8.45).
From Vác Railway Station it's a 15 minutes' walk to get to the college.
Address:
Apor Vilmos Catholic College
Konstantin tér 1-5
H- 2600 Vác, Hungary
Here is a map (the college is next to the Cathedral – No 5 on the map – on the right side).
Dormitories
Our two dormitories provide comfortable housing and learning conditions for a total of 145 students.
Accommodation is reserved in the central dormitory for some 20 international students and staff visiting our college or attending our Erasmus+ Semester.
The central dormitory is in the main building of the college and it offers convenient housing units on three floors. Each unit consists of two rooms, a bathroom and a toilet. There are two or three beds in one room. Internet is accessible all over the college. There is a shared kitchen on each floor equipped with a fridge, a microwave oven and a gas stove. Washing and ironing facilities are also provided.
The Students' Union organises and supports cultural and entertainment programs, as well as sport activities for students living in the dormitories. There is also a club room in the basement for community programs.
Hotels and guest houses